Why studying media and arts is ever more important
Support for teachers when discussing University opportunities in the Arts
How times have changed. Thirty years ago, studying arts disciplines such film, TV and media was rare. When Media Studies began, it was frequently dismissed as a 'Mickey Mouse' degree, in preference was the more respectable, careers focused degrees.
But the world has changed rapidly. Firstly, the transformation of Polytechnics (the old higher education institutions specialising in practical courses) into universities blurred the boundaries in academic study. Demand for degrees increased, not only from students, but also from employers. And technology itself changed.
Thirty years ago, there were only four TV channels in Britain. Now, there are hundreds. While videotapes meant cinema came into the homes; DVDs introduced alternative features and commentaries. The internet began introducing us to new forms of communication, and a website is a core component of every company. Then the web introduced YouTube, iPlayer and streaming. Television and film were no longer constrained to the 'little black box' but were freed up onto laptops and then phones. The media is everywhere today; it's even in your pocket.
Changes in the job market
And with these changes, the job market changed. Even a small company needs a website these days; while a video was once a luxury, it's now standard practice.
And with this, universities have had to catch up. Studying film, media, drama and the arts is now an important step in launching a career. The technical skills needed to produce, say, a film, or even run a theatre show, require knowledge of not just the creative skills of scripting, design, staging, but the technical skills of editing suites, sound equipment, camera equipment. Business acumen is needed in promotion, and events know-how in audience management and health and safety.
But not just this: as the world changes, we also need how to understand these changes. In recent years, there's an increasing awareness of how social media has influenced and altered politics, which in turn, shapes the world we live in. Watching film, television, theatre isn't a one-way activity; it changes us. And that's why, more than ever, it's important that we teach the creative subjects, both in terms of practise, but also in criticism and evaluation.
Therefore studying media, film and drama – like we offer here at the University of Kent – combines a mix of essay writing, watching, reviewing, criticising and, most importantly, understanding the productions being watched.
So the next time someone refers to a Mickey Mouse in reference to a degree subject, it might be wise to remind them that Mickey Mouse, or Walt Disney, is a multi-billion dollar industry that spans the globe and has lasted decades. And understanding why this is the case, helps us understand the world today.
Attend an upcoming Arts taster day
If students are interested in Media and Arts, why not encourage them to attend am Arts taster day? The University of Kent and many other institutions advertise these on UniTasterDays.
---
Want More Updates & Advice?
---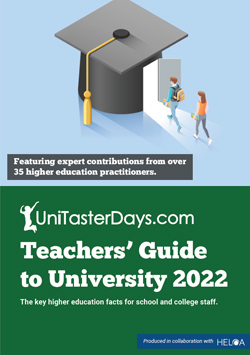 Teachers, careers colleagues and support staff: request your FREE UniTasterDays Teachers' Guide to University brochure.
This brochure has been produced by UniTasterDays.com in collaboration with HELOA - to support the university guidance that is provided in secondary schools and colleges.
Editorial has been provided by over 35 colleagues at universities and higher education institutions throughout the UK. On topics covering how to support students with their university decisions, university events, widening participation & fair access, UCAS applications (including writing school references) and more. It also includes the key student finance facts from Martin Lewis.
New to UniTasterDays? Register Now for our newsletter which includes access to this FREE guide.
Already registered? Login to your control panel with your email address to download now!