The White Elephant in the Room: Have tuition fees decreased the intentions of disadvantaged pupils to progress into higher education?
Guest blog from Matt Horton following research with Mike Thompson and Aimhigher West Midlands
When Theresa May stood at the steps of Downing Street, she said that addressing injustice and increasing social mobility was the Government's key priority. However, recent data published by the Social Metrics Commission (2018) suggests that the proportion of children living in poverty, has increased from 4.1 million to 4.5 million.
Schools, colleges and higher education institutions have a significant role to play in increasing social mobility and are under considerable political pressure to do so. An important measure of social mobility centres on increasing the proportion of disadvantaged students progressing to higher education relative to advantaged students.
Recent higher education progression data (UCAS and HESA) suggests that that the proportion of disadvantaged students progressing into higher education is beginning to flat line, after many years of positive increases.
A recent report published by Matthew Horton (2018) explores why these trends may be emerging. The research explores how government policy across the secondary and higher education sectors may have impacted on disadvantaged students' progression rates. In particular the research focuses on the introduction of increased tuition fees and a possible link to the flat lining in progression rates of disadvantaged students.
The research involved tracking over 14,000 disadvantaged pupils across year groups 9-13. Pupils completed surveys which asked about their intentions to progress to higher education and their concerns about student finance and debt. Importantly the research encompassed the period before and after the increase in higher education tuition fees were announced and implemented (2008 to 2015 - pre and post Browne review). The research also compared findings between pupils engaged in Aimhigher West Midlands widening participation activities (treatment group) and pupils that had not engaged in such interventions (non-treatment group).
In summary, key findings show that:
- Following the introduction of tuition fees there was a drop in pupils' intentions to progress to higher education.
- Concerns about student debt have steadily increased year on year.
- Notably, since tuition fees were increased, the largest drop in higher education intentions were with pupils that had not engaged in any widening participation activities.
- The Aimhigher cohorts' intentions to progress to higher education remain much higher than all other cohorts (e.g. non-intervention group). It seems that engagement within Aimhigher widening participation interventions is lessening the impact of falling intentions which all other cohorts are experiencing.
Evidence presented within this paper suggests that a perfect storm may be brewing on the Widening Participation horizon. Since the introduction of increased tuition fees, disadvantaged pupils' intentions to progress to higher education have fallen. At the same time their concerns about student debt have risen. It seems that these trends are now being mirrored in actual behaviour with higher education entry rates flat-lining and at times falling for disadvantaged groups (UCAS and HESA).
This may just be a storm in a tea-cup. Higher education progression rates for widening participation students may recover in years to come. However, if these recent higher education entry rates are not a blip and are sign of things to come, then widening participation and outreach programmes will need to re-double their efforts to counteract the deflation in disadvantaged pupils intentions / aspirations to progress to higher education.
This report provides evidence to show that intensive widening participation programmes can help to raise the higher education intentions of disadvantaged pupils compared to pupils that do not engage in such activities.
---
Want More Updates & Advice?
---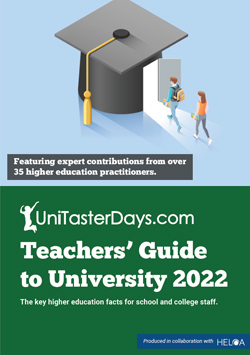 Teachers, careers colleagues and support staff: request your FREE UniTasterDays Teachers' Guide to University brochure.
This brochure has been produced by UniTasterDays.com in collaboration with HELOA - to support the university guidance that is provided in secondary schools and colleges.
Editorial has been provided by over 35 colleagues at universities and higher education institutions throughout the UK. On topics covering how to support students with their university decisions, university events, widening participation & fair access, UCAS applications (including writing school references) and more. It also includes the key student finance facts from Martin Lewis.
New to UniTasterDays? Register Now for our newsletter which includes access to this FREE guide.
Already registered? Login to your control panel with your email address to download now!