Is it free to book a university visit for my school?
The short answer is yes – most events offered by universities are free. Usually, when you visit a university, all you'll need to pay for is some lunch for your students, and travel costs. It's very rare that a university will charge for an event such as a taster session. If there are any charges, you should be told before you commit to anything. If you're ever unsure, just ask for confirmation from the event organiser.
We all know that budgets are being squeezed each year. So even when events are free, universities understand that the travel costs to reach a university campus can be inhibitive. But don't let travel costs put you off, just get in touch with the university and ask if they can help. Many universities are able to offer support with travel charges, or provide food for your students. Often all you need to do is ask.
As with most things, you'll find that each university has its own way of operating when it comes to events and funding. Some universities will publish information about their events funding or travel support on their websites. And many universities will mention the help they can offer in their event publicity. But not all universities do. If you can't find any information about support or funding, just get in touch with the event organiser and ask. Occasionally a university will only offer contributions, so be prepared for this in your budgeting.
If you get really stuck when planning to attend a university event, ask the university if they can bring the event to you. Obviously your students will really benefit from visiting a university campus in person and getting a feel for what student life is like. But some events can translate well into the classroom and you're likely to find that a university will be happy to travel to you and bring resources if it means your students won't miss out.
When it comes to university events and funding, if you can't find the information you need, the best thing to do is get in touch with the university's school and college liaison or student recruitment team and ask what they have on offer. Even better, if you work with a particular member of staff on a regular basis, see if they're able to help. You'll usually find a friendly voice on the end of the phone!
---
Want More Updates & Advice?
---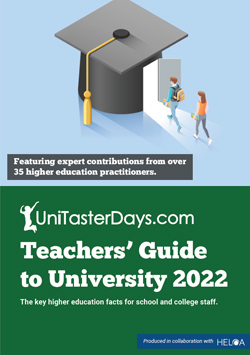 Teachers, careers colleagues and support staff: request your FREE UniTasterDays Teachers' Guide to University brochure.
This brochure has been produced by UniTasterDays.com in collaboration with HELOA - to support the university guidance that is provided in secondary schools and colleges.
Editorial has been provided by over 35 colleagues at universities and higher education institutions throughout the UK. On topics covering how to support students with their university decisions, university events, widening participation & fair access, UCAS applications (including writing school references) and more. It also includes the key student finance facts from Martin Lewis.
New to UniTasterDays? Register Now for our newsletter which includes access to this FREE guide.
Already registered? Login to your control panel with your email address to download now!