What is the difference between university outreach and recruitment departments?
"Recruitment" and "Outreach" - spot the difference
You'll often find the terms 'outreach' or 'recruitment' used with regard to the activities and events universities arrange for young people, but what are the differences between the two?
In a nutshell, outreach activity tends to focus on widening participation (WP) audiences and most commonly on pre-16 (including primary school) cohorts.
Recruitment activity, as the term suggests, tends to be much more concerned with the direct recruitment of students to university courses, rather than raising aspirations towards Higher Education (HE) in general.
Recruitment activity is usually focused on work with post-16 audiences. But then these audiences will include WP cohorts (and may therefore also be deemed to be outreach activity).
Recruitment activity might typically include Open Days, taster days, campus visits, UCAS fairs, HE and career conventions, seminars and presentations, subject lectures and progression agreements. Outreach /WP events may be similar, but perhaps more aspirational in content.
In reality, there's often an overlap between outreach and recruitment activity offered by most universities, particularly for post-16 audiences. You may also find the teams would still work closely together, and would happily put you in touch with the contact more appropriate for you if that is required.
---
Want More Updates & Advice?
---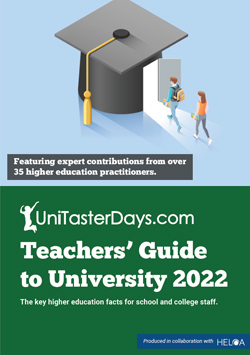 Teachers, careers colleagues and support staff: request your FREE UniTasterDays Teachers' Guide to University brochure.
This brochure has been produced by UniTasterDays.com in collaboration with HELOA - to support the university guidance that is provided in secondary schools and colleges.
Editorial has been provided by over 35 colleagues at universities and higher education institutions throughout the UK. On topics covering how to support students with their university decisions, university events, widening participation & fair access, UCAS applications (including writing school references) and more. It also includes the key student finance facts from Martin Lewis.
New to UniTasterDays? Register Now for our newsletter which includes access to this FREE guide.
Already registered? Login to your control panel with your email address to download now!