The future of Post 16 qualifications - calling all Level 3 staff
Whilst understanding that now is a time of great stress and disruption to schools, I would like to bring to your attention something you may or may not have been aware of previously. There is a very important government consultation on the future of post-16 qualifications at Level 3 in England taking place at present. Please find this here.
Note from UniTasterDays - Important update - deadline extended now until 31st Jan 2021 (from Jan 15 2021)
I believe this is worthy of your attention due to recent proposals suggesting a new Level 3 landscape consisting predominantly of only A-level and T-level qualifications. This would therefore mean the removal of many qualifications, especially the very popular BTEC and vocational qualifications taken by around 100,000 students each year.

If you are a teacher of one of these qualifications, which the government is proposing to slowly replace with T-levels, or indeed anyone involved in the Level 3 landscape especially in Further Education Colleges, it is very important that your voice is heard and taken into consideration before this move is taken. If the proposed reforms are adopted, it could have a very real impact on a vast number of students' success at Level 3 and beyond.
Deadline for responses – 15 January 2021 (UniTasterDays Note - now updated until Jan 31st)
The government is asking for opinions on these proposals up until the 15th January 2021 (UTD note - now 31st January) through a survey, after which time it will close. Please find the survey here. I once again understand for Level 3 staff this is yet another key deadline at a very busy time, but I would urge you to fill out the survey, as your experience relating to these qualifications could provide vital insight into the possible implications of these wholesale changes.
NEON (National Education Opportunities Network) BTEC working group
Furthermore, our NEON (National Education Opportunities Network) BTEC working group are always looking for new members and key voices to help develop our understanding of BTEC and vocational learners and create real impact on their access to Higher Education and future success.

We are very much hoping to forge strong links with level 3 staff and foster stronger collaboration across the HE and FE sectors. Our next meeting taking place via Zoom on 18th January and we would love for any of you interested to join. Colleagues are also encouraged to contribute to discussions on how best to support BTEC learners via our LinkedIn group.

If you would like any more information about our Group, please do not hesitate to get in touch with me directly – [email protected]
---
Want More Updates & Advice?
---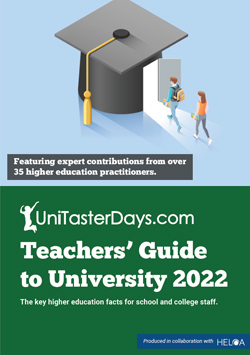 Teachers, careers colleagues and support staff: request your FREE UniTasterDays Teachers' Guide to University brochure.
This brochure has been produced by UniTasterDays.com in collaboration with HELOA - to support the university guidance that is provided in secondary schools and colleges.
Editorial has been provided by over 35 colleagues at universities and higher education institutions throughout the UK. On topics covering how to support students with their university decisions, university events, widening participation & fair access, UCAS applications (including writing school references) and more. It also includes the key student finance facts from Martin Lewis.
New to UniTasterDays? Register Now for our newsletter which includes access to this FREE guide.
Already registered? Login to your control panel with your email address to download now!