UCAS application advice for teachers: The perils and pitfalls of the UCAS application
Guest blog by Helen Waters-Marsh, Schools and Colleges Liaison Manager, University of Nottingham
When two new people joined my team from our Admissions department, they opened my eyes to the common mistakes they noted while processing UCAS applications.
Much of my work focuses on advising students about personal statements, so I hadn't really talked much about the rest of the UCAS form.
But my colleagues' experiences made me understand the anxiety of students when realising they've made a mistake on their UCAS application.
Although we never discussed individual applications, we noticed the common mistakes applicants were making. Some more serious than others. These included:
Selecting the wrong gender: One of those mistakes that, although unlikely to cause any major application delays, can lead to some awkward conversations later down the line.
Declaring criminal convictions (they don't have): Whilst I'm aware some students will have criminal convictions, it's not nearly so many as are declared on UCAS forms!
Having inappropriate e-mail addresses: It's important students put down an e-mail address they'll have continual access to, and that it isn't one they'd be embarrassed to spell out to one of our admissions colleagues on results day.
Getting 'nationality' and 'ethnicity' confused: A student's fee status – which determines how much they'll have to pay to attend university – depends on nationality and other factors. Ethnicity is not relevant to fee status.
Applying to the wrong university: This may not apply to all students, but at the University of Nottingham, we still receive applications for Nottingham Trent University!
One of the most interesting problems my new staff had dealt with was a student who insisted their date of birth had changed since they submitted their UCAS form.
It's a stressful time all round for prospective students, and as a teacher, your calm guiding hand is vital.
As a little extra insurance, it's worth getting your students to consider who they'll assign as a nominated contact on the UCAS form. Without prior approval through the nominated contact facility, universities can only liaise with the students – not their parents or school.
---
Want More Updates & Advice?
---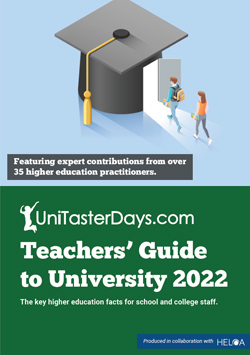 Teachers, careers colleagues and support staff: request your FREE UniTasterDays Teachers' Guide to University brochure.
This brochure has been produced by UniTasterDays.com in collaboration with HELOA - to support the university guidance that is provided in secondary schools and colleges.
Editorial has been provided by over 35 colleagues at universities and higher education institutions throughout the UK. On topics covering how to support students with their university decisions, university events, widening participation & fair access, UCAS applications (including writing school references) and more. It also includes the key student finance facts from Martin Lewis.
New to UniTasterDays? Register Now for our newsletter which includes access to this FREE guide.
Already registered? Login to your control panel with your email address to download now!