A lockdown success story - the rise, and rise, of online events
This year has seen many changes - and university outreach is no different. One of the biggest advantages to colleagues in schools and colleges is the variety of online events. Previously if a school had contacted a university from a long distance away, the university may not have been able to support the request. But now we have the technology and the capacity to facilitate it.
Like many universities, when lockdown was announced, we had to plan how we can best support students without the traditional large scale and bespoke events we were used to.
Digital availability was a concern - we didn't want anyone to miss out. The fairest way we felt was to develop a series of videos which were open access across a range of topics. We also recorded most of our events and created Outreach on Demand and put videos on our website again as open access. Many universities have done this, with some requiring a form to be completed, but the result means IAG access is easier than ever before.
Webinars are a great way of experiencing university sessions - as tutors can deliver lectures to larger groups and they can still be made interactive. They are also a great way to get a feel for teaching styles and if the institution would suit your students. Safeguarding for these was a high priority, so many of these would take place with students being able to ask question, but without being visible to anyone which encouraged greater participation than an in-person event would have done.
There is also the ease of asking questions, with universities running virtual chats with students, support staff and tutors. Students found it far easier to ask questions online, as, like in webinars, they didn't feel embarrassed asking questions.
Another success of the year is seeing the collaboration between institutions. Many a time I have been put in a different corner from the other Liverpool universities, but we do get along and over the summer have worked on several collaborative projects to ensure students had the best advice and support.
The best success story for university outreach from lockdown must be the integration of virtual offerings and the variety of sessions this can afford. Already we are seeing a blended approach with some schools preferring virtual delivery.
Do contact as many universities as possible and see how they can best support you through what will be a challenging year, but a year where students will have more access to clear information, advice and guidance than ever!
---
Want More Updates & Advice?
---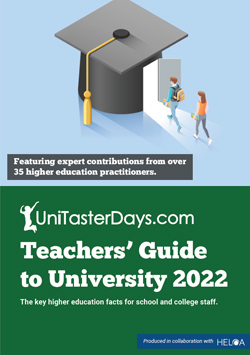 Teachers, careers colleagues and support staff: request your FREE UniTasterDays Teachers' Guide to University brochure.
This brochure has been produced by UniTasterDays.com in collaboration with HELOA - to support the university guidance that is provided in secondary schools and colleges.
Editorial has been provided by over 35 colleagues at universities and higher education institutions throughout the UK. On topics covering how to support students with their university decisions, university events, widening participation & fair access, UCAS applications (including writing school references) and more. It also includes the key student finance facts from Martin Lewis.
New to UniTasterDays? Register Now for our newsletter which includes access to this FREE guide.
Already registered? Login to your control panel with your email address to download now!