A guide to online university events and support for schools and students. What is out there?
The coming weeks will undoubtably see an increase in online university events advertised as schools and students seek university guidance away from the classroom - and universities explore ways to facilitate these opportunities.
Higher education outreach and recruitment teams will therefore be moving to an online delivery model in many cases. This will ensure they continue to provide exceptional support to students who will still be making life changing university decisions in the coming months and years, despite the current challenges.
I wanted to provide a quick guide to the different types of university events you may see advertised here - as well as introducing our new online area where you can find out about them!
What is a virtual university open day?
A virtual open day allows a student to experience many of the things they would at a physical university open day, but on their computer, mobile or tablet. The content is likely to include online campus tours, question and answer opportunities with staff and students, access to event specific resources and a wealth of video content.
What is a university webinar?
A webinar will be similar to an online chat which you may see advertised too, with the benefit of a video presentation live, or delivered as live (perhaps with a Q and A alongside this). They may be delivered standalone as a single event – or as a series of events during the day.
What is online mentoring?
Online mentoring connects young people with others, perhaps to act as a role model to discuss their future plans. Benefits may include increased aspirations and attainment.
How about university resource sharing?
Universities will have a range of fantastic sessions prepared which may be offered to you, to share with your students. This may include powerpoints, hand outs and video content to support students drafting personal statements, exploring fees and finance or looking into option choices and the impact that has on subsequent university participation.
How are UniTasterDays helping during the current challenges?
With all universities working on their online events, we want to ensure schools can easily find them – without spending hours checking individual websites.
We have therefore launched a new central hub for these events during the week - and in just a few days, approaching 100 events have been added, and this will increase as more universities announce their online plans. Do please keep an eye on this page, and encourage students to look at this as well – https://www.unitasterdays.com/online
We remain on hand to support schools searching for online events and universities seeking ways to advertise their online provision. If I can help, please do drop me an email, connect with me on Linkedin or call 01746 769269 for a chat or to setup a video call. #heretohelp
---
Want More Updates & Advice?
---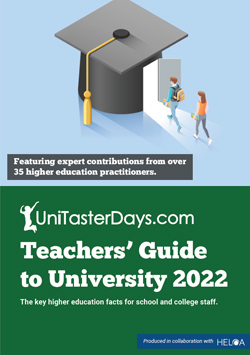 Teachers, careers colleagues and support staff: request your FREE UniTasterDays Teachers' Guide to University brochure.
This brochure has been produced by UniTasterDays.com in collaboration with HELOA - to support the university guidance that is provided in secondary schools and colleges.
Editorial has been provided by over 35 colleagues at universities and higher education institutions throughout the UK. On topics covering how to support students with their university decisions, university events, widening participation & fair access, UCAS applications (including writing school references) and more. It also includes the key student finance facts from Martin Lewis.
New to UniTasterDays? Register Now for our newsletter which includes access to this FREE guide.
Already registered? Login to your control panel with your email address to download now!