The Great Gatsby's - how universities can support schools with the Gatsby Benchmarks
It's an exciting time for university outreach teams now that the Gatsby Markers are starting to be built into school curriculums. For years universities have supported schools and colleges with raising aspirations and careers advice and they now can support staff with Gatsby across the different markers, not just benchmark 7 as well.
A stable careers programme?
The best way to ensure that you have a stable careers programme is to have a wide range of events and speakers. Universities deliver a series of sessions that can support you with this. These include study skills, writing a personal statement for UCAS (that can also be used for jobs), personal finance, budgeting etc. Staff also regularly take part in mock interviews either on site or at the university.
Bringing in more than one university throughout the year also gives students multiple perspectives.
Taster Sessions can be more than just a university experience
A taster session from a tutor not only ticks off Gatsby Benchmark 7, but quite often tutors will highlight where their courses can lead to. Even academia itself is a profession students may wish to take. Therefore a taster visit could help you with Gatsby 2, 4, 5 and 6. Why not ask if a university can also support work experience placements for students which is another way to support these markers as well?
Gatsby Marker 3 is to address the needs of each pupil. Individual support for students can include mock interviews and personal statement checks. Sessions that outreach teams deliver ultimately support all individuals so can also be supporting evidence for Gatsby 3. There are a variety of different schemes that universities run which can offer personal guidance. Some may start when students pick GCSE's and run throughout until they leave college with reflective journals that can be used as evidence of completion. Others may use online platforms to do informal careers sessions which can also support Gatsby 8 (Personal Guidance).
And of course Gatsby 7 – Interactions with HE
By the end of year 11, students should have had at least one interaction with HE and by the end of year 13 they should have had at least 2 interactions. With so many great universities and outreach teams, contact as many as possible to see how we can support you, either at your institution or by visiting the university. By engaging multiple universities, you can evidence a strong careers programme and provide as many opportunities to your students as possible. The best way to find out what we offer is by getting in touch, look at our websites and of course see what's on UniTasterDays (where you are now!).
---
Want More Updates & Advice?
---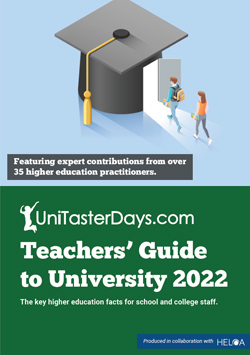 Teachers, careers colleagues and support staff: request your FREE UniTasterDays Teachers' Guide to University brochure.
This brochure has been produced by UniTasterDays.com in collaboration with HELOA - to support the university guidance that is provided in secondary schools and colleges.
Editorial has been provided by over 35 colleagues at universities and higher education institutions throughout the UK. On topics covering how to support students with their university decisions, university events, widening participation & fair access, UCAS applications (including writing school references) and more. It also includes the key student finance facts from Martin Lewis.
New to UniTasterDays? Register Now for our newsletter which includes access to this FREE guide.
Already registered? Login to your control panel with your email address to download now!