Teachers' Guide 2019-20 preview and a summer blog break!
I am currently busy working on the 2019-20 edition of the UniTasterDays Teachers' Guide to University brochure and will use the final blog of the summer to give you a sneak of what to expect.
1: Fantastic higher education colleagues again providing their expert text
We are very fortunate to have received editorial from higher education colleagues throughout the UK, on topics including:
- How to build effective university links
- How to make the most of a university open day
- How to prepare students with the transition to university
- How to support students with their personal statements
- How universities can support you to meet the Gatsby Benchmarks
- Introducing contextual offers
- Introducing the different types of university courses
- Introducing the different types of university events for schools
- Introducing university teacher and adviser conferences
- Top tips for organising a higher education event for your school
- What are degree apprenticeships?
- What do universities look for in a university reference?
- What is the National Collaborative Outreach Programme?
With a deadline of July 31st for content - there is still more to come!
2: Updated content from the finance expert Martin Lewis
Last year, content on fees and finance from the wonderful Martin Lewis received sector-wide brilliant feedback. Martin has kindly agreed to send new content to again feature.
3: Two exclusive interviews on graduate employability
This year we wanted to explore graduate employability and the skills some of the most successful people in the UK think are important.
We won't release the names of the interviewees just yet, but we are really excited to say we have interviewed two of the leading business figures of this generation and will be sharing their exclusive thoughts with you.
There is still time to get involved – if you are interested in writing for us – both from the perspective of your school on your tips for creating university links, as well as content from university colleagues on the key aspects of university school and college liaison – please browse the editorial guidelines HERE.
Happy holidays – and see you in September!
---
Want More Updates & Advice?
---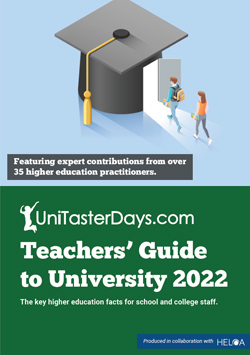 Teachers, careers colleagues and support staff: request your FREE UniTasterDays Teachers' Guide to University brochure.
This brochure has been produced by UniTasterDays.com in collaboration with HELOA - to support the university guidance that is provided in secondary schools and colleges.
Editorial has been provided by over 35 colleagues at universities and higher education institutions throughout the UK. On topics covering how to support students with their university decisions, university events, widening participation & fair access, UCAS applications (including writing school references) and more. It also includes the key student finance facts from Martin Lewis.
New to UniTasterDays? Register Now for our newsletter which includes access to this FREE guide.
Already registered? Login to your control panel with your email address to download now!