Our tips for schools wishing to engage with university outreach teams
"I didn't realise you did that!" is something we hear more often than you can imagine with regard to what university student recruitment teams offer in order to inform and guide your students' choices and decisions for higher education.
Our 'making the first contact' tips
1: Firstly not all Student Recruitment teams are called as such, they may come under 'Education Liaison', 'Outreach' or 'Marketing' and aren't always accessed via the main university webpage. You can of course use UniTasterDays (where you are now), or check the university website. If you can't find what you're looking for, you can contact their central enquiry email address who should get your request to the right people.
2:Check to see whether the Student Recruitment team has a generic email address for enquiries or a particular contact for your region/area.
3:Find out if they have their own "Outreach" social media. If they do, it would be worth following them to receive regular updates.
4: Ask to be added to their mailing list to receive up to date newsletters regarding the university and future events.
5: Every University has a different outreach offering of sessions and opportunities, just because one doesn't offer something, doesn't mean others won't.
6:National Collaborative Outreach Programmes (NCOP's) are also a great resource for schools and colleges. If you contact your local NCOP they can check if you are a school they are working with (not all schools will be eligible for NCOP activity). You can click here to find out more about NCOP in your area.
7: Don't be afraid to contact universities further afield, they may be happy to travel to your school or college to speak to your students. They may also be like our institution Edge Hill University, and have staff who look after a specific region.
8: Utilise websites such as UniTasterDays. They advertise what's on offer and send all the requests straight to the university.
On and off campus university visits for schools
1: Each university will offer a variety of different events and activities but most will offer impartial sessions such as Personal Statement Information, Interview Techniques, Applying to UCAS, Introduction to Higher Education and Student Finance.
2: Visiting the university is a great way to find out about academic subjects. Most universities will run Subject Taster days throughout the year. These are excellent ways to find out more about certain courses, visit the facilities and chat to lecturers about the modules.
3: If you're unable to make it to the university, we are always happy to come and visit you! Most workshops can be delivered in the classroom and we can fit in around your timetable and can often repeat a session to cover more than one cohort.
4: Certain months of the year are busier than others for Outreach teams with UCAS exhibitions and school visits – make sure you contact us early to book a date.
5: If you have an idea for a workshop or activity then do let us know – it's really useful to hear from teachers about the types of content that will be most suitable for their students.
6: Always remember there is never a silly question and this is what we are here for, so we are only ever a phone call or email away.
---
Want More Updates & Advice?
---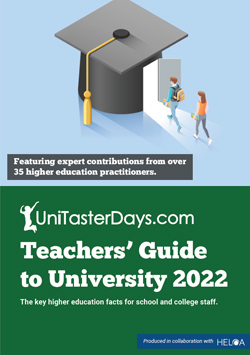 Teachers, careers colleagues and support staff: request your FREE UniTasterDays Teachers' Guide to University brochure.
This brochure has been produced by UniTasterDays.com in collaboration with HELOA - to support the university guidance that is provided in secondary schools and colleges.
Editorial has been provided by over 35 colleagues at universities and higher education institutions throughout the UK. On topics covering how to support students with their university decisions, university events, widening participation & fair access, UCAS applications (including writing school references) and more. It also includes the key student finance facts from Martin Lewis.
New to UniTasterDays? Register Now for our newsletter which includes access to this FREE guide.
Already registered? Login to your control panel with your email address to download now!