Is funding available to support my school attending university events?
Guest Blogger: Sophie Craven, Schools and Colleges Liaison Service, The University of Huddersfield
Working with universities can bring many and varied benefits to you, your school or college and to your students. Benefits typically include raising aspirations and attainment, enhancing the curriculum and supporting key transition points – including successful applications and transitions into Higher Education. However, despite the benefits there are often factors that prohibit such collaboration – and cost can be a major factor.
The good news is that, in many cases, funding is available to support the costs associated with university collaboration. So before you discount the idea of a trip or a visit due to funding constraints, dig a little deeper as there could be funding out there. Here are some examples of the types of funding that might be available.
Many universities will pay for transport costs including coaches, mini buses and individual travel. There may be specific criteria attached to transport funding – for example it may only apply to post-16 activities, there may be minimum/maximum numbers and geographical as well as Widening Participation criteria may apply.
In addition to transport costs, some institutions may provide lunches or vouchers for visiting staff and students participating in campus-based events and activities.
Some events, particularly those aimed directly at teachers and advisers, may offer to cover the costs or make a fixed contribution towards teacher cover. These sorts of events might include teachers' and advisers' conferences or collaborative projects where universities require teacher input to design curriculum-based activities or resources.
Targeted activities and projects
Specific projects that are aimed at encouraging increased collaboration between schools and universities sometimes provide funding to pay for activities and for staff, based on specific criteria. The most current example of this type of activity is the National Collaborative Outreach Project, which funds collaborative outreach programmes in specific local areas and for targeted students based on Widening Participation criteria. For more information about the initiative please see our NCOP blog.
Don't be afraid to contact universities to ask what aspects of events and activities can be funded – universities are operating in an increasingly competitive market and are used to being asked these sorts of questions. It is also worthwhile shopping around – whilst some universities may not fund certain activities, others might. Equally, this sort of information is not always published on university websites so if in doubt pick up the phone and get in touch.
The value of contributions in-kind
Whilst it's useful to be aware of potential funding sources for collaborative work, don't underestimate the added value of in-kind contributions that universities can make to your work with students. For example, the use of Student Ambassadors as role models and mentors, inputs from academic staff into the curriculum and from Schools Liaison staff who can support you in a wide range of ways, including (but not limited to) aspirations, attainment, and students making informed HE decisions in the future.
---
Want More Updates & Advice?
---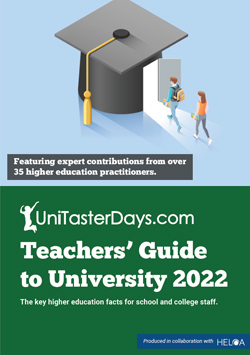 Teachers, careers colleagues and support staff: request your FREE UniTasterDays Teachers' Guide to University brochure.
This brochure has been produced by UniTasterDays.com in collaboration with HELOA - to support the university guidance that is provided in secondary schools and colleges.
Editorial has been provided by over 35 colleagues at universities and higher education institutions throughout the UK. On topics covering how to support students with their university decisions, university events, widening participation & fair access, UCAS applications (including writing school references) and more. It also includes the key student finance facts from Martin Lewis.
New to UniTasterDays? Register Now for our newsletter which includes access to this FREE guide.
Already registered? Login to your control panel with your email address to download now!