How to support underrepresented students to progress to selective universities
As educators, we all aim to ensure that students can make informed decisions on their future and access competitive university places based on merit and potential. Whilst these objectives drive us more than ever, delivering on these goals can be challenging.

There are still students who are less able to access higher tariff university destinations, particularly students from Black ethnicity backgrounds, students from Asian ethnicity backgrounds and mature learners. This article looks at how we can empower these students to make an informed decision and consider selective universities.
That well-worn phrase - "You never stop learning" is particularly pertinent. Each student faces distinctive challenges in accessing selective institutions. We can all learn more about the outlooks and understandings students hold, particularly when these are different to our own.

We know that a majority of teaching professionals are from a White ethnicity background and around 75% are women. Reflecting on our own policies and curriculum to celebrate a diversity of cultures helps students tackle ignorance and misunderstanding. Opting to listen, acting as an advocate and thinking critically about our own assumptions/biases can help to create more accurate predicted grades and an inclusive environment.
Some students feel uncomfortable with accessing selective university places as they feel there are no students representing their journey. Providing positive role models who have taken similar steps generates positive attitudes towards higher tariff university progression.

Highlighting materials like blogs, vlogs and talks which reflect an authentic higher education experience, especially when from current students, is key. The more we combat what a 'typical student' looks or sounds like, the greater the mobility of all students.
There can be fantastic opportunities for students to stay within an area they know well. However, it is also important that we present students with a genuine choice to help them make an informed decision. Providing guidance about amenities, facilities and culture in different areas of the country can help reduce the unknown elements of moving away from home. Within the Russell Group, there is variety and unique experiences - students should consider more than just the selective institution closest to them.
Selective universities have a raft of targeted activities and programmes to help tackle the barriers mentioned above. Researching institution provision might open the door for your students. At the University of York, we have innovative programmes such as 'Black Access', designed by our current students to showcase their experiences as Black students. We also have programmes such as 'YorWay to York' to help students overcoming distance, and sector leading care experienced and independent student provision. Selective universities might also utilise contextual offers to help provide fairer access to higher education where inequalities still exist.
---
Want More Updates & Advice?
---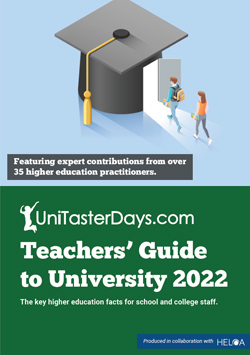 Teachers, careers colleagues and support staff: request your FREE UniTasterDays Teachers' Guide to University brochure.
This brochure has been produced by UniTasterDays.com in collaboration with HELOA - to support the university guidance that is provided in secondary schools and colleges.
Editorial has been provided by over 35 colleagues at universities and higher education institutions throughout the UK. On topics covering how to support students with their university decisions, university events, widening participation & fair access, UCAS applications (including writing school references) and more. It also includes the key student finance facts from Martin Lewis.
New to UniTasterDays? Register Now for our newsletter which includes access to this FREE guide.
Already registered? Login to your control panel with your email address to download now!