My top tips for your students making university decisions during results day and Clearing
Anxiety is already building for A Level results day, and some students will need to be brave and face Clearing. Thankfully, out of adversity, great victories can be won. The same is true for Clearing, and it is also a subject close to my heart, as I was once a Clearing student too. Now I find myself working in the university world, and I've made 100's and 100's of decisions on candidates. I'm always grateful that someone once gave me a chance and now I try to do that for others.
My top tips for your students ahead of results day and Clearing:
1. For those likely to be in Clearing, support the candidate to consider what they can compromise on in advance of Clearing, when things are calm. For example - a different institution, a different course, a foundation programme rather than a degree course etc.
2. Encourage students to do some online research ASAP, with particular reference to the UCAS site. Institutions with many places will advertise before Clearing. They should make a list of the higher education institutions and courses which might be of interest. These will be the places the pupil rings first on results day.
3. Some universities might offer graduate entry to some clinical courses. If the person wants to study Medicine, Dentistry or Veterinary Science, it might be possible to take a relevant undergraduate course first and then gain access via graduate entry into year two. Take lots of advice directly from the universities of interest themselves first before making the final decision. However, this could be an excellent option.
4. Your students can consider higher education institutions asking a few grades higher than the individual actually has achieved. For example, the published offer might be BBC but in reality, at times when I've had a lot of spare places, I've agreed to take students with CDD. It's a little like a hotel room price. The room rate is a published price but sometimes, if there is lots of availability it is possible to get it 'cheaper'. The principle is the same with university places.
5. Your students should be realistic. Don't waste time on top universities and/or top courses for 2021 entry as they are unlikely to have anything available and the time spent doing this, means those other courses with limited availability will be filling up and you might miss them. Ideally, use your prepared list of institutions and courses of interest and I'd also recommend ringing universities advertising available places.
6. Encourage your student to consider lifestyle in their decision. Happy students do well and sadly, unhappy ones usually do badly. So if they agree to change their subject are they genuinely interested in it? Does the university have accommodation to offer? If no, it can be lonely.
7. Once a Clearing offer is made, ask if there is a deadline for acceptance. Often it is only 24 hours or two days. Encourage the candidate to use that time wisely to ensure this is the right choice and don't miss the deadline!
8. Next year demand for places is likely to be greater, simply because there are more 18-year-olds demographically. So, if there is a viable option for the student in September, my recommendation is to take it this year rather than suggest a gap year.
---
Want More Updates & Advice?
---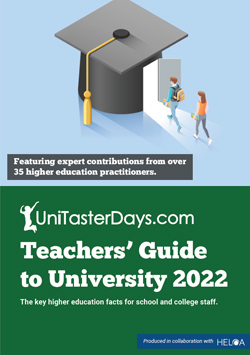 Teachers, careers colleagues and support staff: request your FREE UniTasterDays Teachers' Guide to University brochure.
This brochure has been produced by UniTasterDays.com in collaboration with HELOA - to support the university guidance that is provided in secondary schools and colleges.
Editorial has been provided by over 35 colleagues at universities and higher education institutions throughout the UK. On topics covering how to support students with their university decisions, university events, widening participation & fair access, UCAS applications (including writing school references) and more. It also includes the key student finance facts from Martin Lewis.
New to UniTasterDays? Register Now for our newsletter which includes access to this FREE guide.
Already registered? Login to your control panel with your email address to download now!