Home or Away: Making a decision about university accommodation and living arrangements
Guest blog by Laura Pearson. Laura is an English graduate and works in Student Recruitment (Outreach) at Manchester Metropolitan University.
What is student accommodation like? Does everybody move into student accommodation? Do you have to move away from home? Do many people commute?
As teachers and advisers, you are bound to receive countless questions about student accommodation, moving away from home and commuting. As a former student, I asked the same questions myself and as somebody who works in Student Recruitment, I am asked them at almost every event that I attend.
Some students can't wait to move out of home for the first time and consider student accommodation and living away as an exciting prospect, whilst other students couldn't possibly think of anything worse! The truth is that there are no right or wrong answers about living arrangements - it is entirely down to each and every student and what they prefer to do.
When it comes to discussing living arrangements, the key thing to remember and to stress to your students is that they will be shaping their individual student lives through the decisions that they make. You should encourage your students to think about the type of student life they are looking for and emphasise that what suits one student may not necessarily suit another. At Manchester Met, where I work, around half of our students opt to commute, whilst the other half choose to live in student accommodation.
Another element that comes into play is the cost of student accommodation. Often when students begin their research, they do want to move into halls. However, once they realise how costly living away from home can be (usually at application stage), they sometimes reconsider.
The best thing you can do to help your students in making their decisions about living arrangements and student accommodation is to encourage them to look around as much student accommodation as they can and to talk to current students who live in halls at the various universities that they are interested in. It is also worth advising your students to start researching commuting routes early and consider the location of the universities they are interested in, how accessible they are from home and whether commuting is an option for them. For some students, there is the option to live in student accommodation for their first year of study and then commute for the remaining years. However, this again is dependent on location and the distance of the universities they are considering from home.
It is important to highlight that there are benefits and drawbacks to both staying at home and commuting or moving away and living in student accommodation and these include personal, financial and social benefits and drawbacks. Here are a few examples:
Commuting

| Benefits of Commuting | Drawbacks of Commuting |
| --- | --- |
| Maintain old friendship networks and make new friends through course and societies. | Restricted on travel times (public transport) which could affect some socialising (e.g. nights out). |
| Potentially cheaper living costs and even keeping your current evening or weekend job. | Travel can be time consuming and expensive. |
| Choose who you live with/perhaps a quieter environment for study. | Miss out on some aspects of the university experience - e.g. Living in halls, cooking, gaining independence. |
| Best of both worlds? (A mix of home and university life). | Miss out on the opportunity of making friends in halls. |
Student Accommodation

| Benefits of Student Accommodation | Drawbacks of Student Accommodation |
| --- | --- |
| Opportunity to gain independence. | The cost of halls and living costs. |
| A chance to mature and develop new skills, e.g. Cooking and cleaning. | Depending on the type of accommodation, you may have to share bathroom facilities and shared spaces (especially kitchen and living areas) can get untidy. |
| Meet new people and make new friends from halls, as well as your course and societies. | You generally can't choose who you live with. |
| A new experience. | Adjustment of moving away (home sickness). |
| Closer to university and easily accessible - sometimes within walking distance. | You could potentially drift away from old friendship networks |
Depending on what stage your students are at during the process, there are various opportunities available for them to view student accommodation. Open Days, Applicant Visit Days and Inbound School Visits are all great opportunities for this. Some universities will also have other opportunities available for students to visit their campuses and you can check these out on their websites.
If you need any further information - university school and college liaison or outreach staff will always be happy to help!
---
Want More Updates & Advice?
---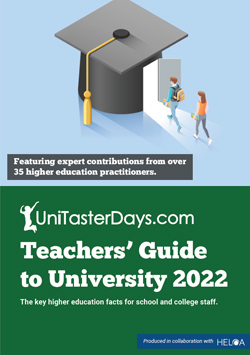 Teachers, careers colleagues and support staff: request your FREE UniTasterDays Teachers' Guide to University brochure.
This brochure has been produced by UniTasterDays.com in collaboration with HELOA - to support the university guidance that is provided in secondary schools and colleges.
Editorial has been provided by over 35 colleagues at universities and higher education institutions throughout the UK. On topics covering how to support students with their university decisions, university events, widening participation & fair access, UCAS applications (including writing school references) and more. It also includes the key student finance facts from Martin Lewis.
New to UniTasterDays? Register Now for our newsletter which includes access to this FREE guide.
Already registered? Login to your control panel with your email address to download now!