The Teaching Excellence Framework ("TEF"): how will this new framework impact on your students?
Universities up and down the land have been either celebrating or commiserating over their results in the Teaching Excellence Framework (TEF), with some big names scoring surprising results. Some students might initially disregard the results as just another league table, but with TEF there are some key differences, so what does this mean for students looking for a top university?
1 – Each provider was benchmarked
When the major league tables look at each university, they tend to focus on absolute performance. It stands to reason that the 'top' providers get the best scores. However, it is also true that a cohort with a higher level of academic performance prior to university, may subsequently perform better at university and potentially then have the best outcomes after they finish.
Benchmarking transforms raw data into a measure of value-added; an institution that brings in most students with AAA grades, is expected to have more students graduate with a good-honours degree (2:1 and above). Applying this to graduate prospects, future earnings and the whole range of TEF metrics builds up a picture of how any given university should perform, relative to its intake. For students, this shows clearly which universities are outperforming, and therefore adding the most value to their students.
2 – Two negative flags, automatic Bronze
The underlying data for TEF was very similar to that used by the major league tables, namely the National Student Survey, Destinations of Leavers from Higher Education Survey (DLHE) and various other HE statistical metrics; however instead of ranking these directly, results were flagged either negative or positive. HEFCE describe flagging as highlighting results that are significantly different from what was benchmarked, and if a provider is more than 3 percentage points AND 3 standard deviations away from their benchmark then a double flag is applied.
In terms of the final results, providers with 3 or more positive flags are provisionally awarded a Gold award, while ones with two or more negative flags are initially considered Bronze (subject to panel assessment).
3 – Providers had the chance to quantify data
Unlike any major league table, universities had a right to reply with TEF. Panel submissions allowed each university to provide context to the data, explain any variance against expectations and crucially show how they intend to address any negatives.
If the panel was satisfied that a provider was taking the right steps to tackle any negatives, a different result could be awarded. Likewise, if the panel were not satisfied that the performance of an institution truly could be called Gold standard, then it could be reclassified, preventing the opportunity for Universities to adjust their metrics to change league table performance.
With TEF, students can rest assured institutions are not only outperforming expectations, but also satisfying a panel of Higher Education experts that they are deserving of a Gold Award.
Likewise, those providers who are significantly underperforming relative to expectations are highlighted to students for the first time. Top performing students deserve a university where they will be able to be the best they can be; a university rated Gold in TEF is a strong indicator of that.
---
Want More Updates & Advice?
---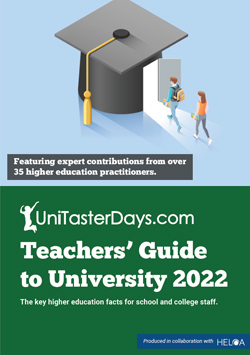 Teachers, careers colleagues and support staff: request your FREE UniTasterDays Teachers' Guide to University brochure.
This brochure has been produced by UniTasterDays.com in collaboration with HELOA - to support the university guidance that is provided in secondary schools and colleges.
Editorial has been provided by over 35 colleagues at universities and higher education institutions throughout the UK. On topics covering how to support students with their university decisions, university events, widening participation & fair access, UCAS applications (including writing school references) and more. It also includes the key student finance facts from Martin Lewis.
New to UniTasterDays? Register Now for our newsletter which includes access to this FREE guide.
Already registered? Login to your control panel with your email address to download now!