How students can choose the university and the course that is right for them - top tips to pass on to students!
Guest blog by Lois Tucker, Plymouth University
There are approximately 130 universities in the UK, and around 240 further education colleges offering university level courses. This means students have over 350 institutions to choose from when thinking about Higher Education… so what should they consider when deciding where to go and what to study?
This has to be number one! Does the university have the right course? Keep in mind that unlike schools and colleges, universities do not follow a curriculum and so courses in the same subjects may cover a whole range of different elements and be taught differently at each university.
Where is the university in relation to the city centre? Is it a campus based university, so all on one site (a bit like a school or college but on a larger scale) but away from the main city area or is it in the centre with the university buildings dotted across the city?
At Plymouth University we have the luxury of being a campus university but right across the road from the main city centre so we have the best of both worlds! An important additional factor to consider is how far from a students home town/city is the university, is it easy to get back in the holidays? Also what is the surrounding area like, do students want to be near the sea/beach or the heart of the City or countryside?
Check out what facilities the institution has, this includes the course, so what are the laboratories/design spaces, classrooms and lecture theatres like? Is the library open 24 hours? How big are the computer rooms and are these open all day? Also consider what are the facilities like for any extracurricular activities, such as sports centres and outdoor facilities?
Sports clubs and societies
Ask about the sports clubs on offer, and what competitions they take part in. Or if a student isn't interested so much in sport, then ask about the different societies. At Plymouth University we have societies for our different courses as well as the Disney Society, Harry Potter Society and Knitting Society (and many more)… there really is something for everyone at most universities!
What accommodation can the university offer and what price range are they? Are the Halls of Residence catered or non-catered, how many rooms are there per flat and can students choose who they live with? It's also worth finding out if Halls of Residence are guaranteed for first years too as this can take a huge weight of their mind.
If students want to get a part time job, a placement or just gain some work experience whilst they study then it's worth considering what support and advice there is at the university in helping them gain employment. Do they have links with local businesses, are there careers fairs and is there a service to help apply for jobs and placements?
---
Want More Updates & Advice?
---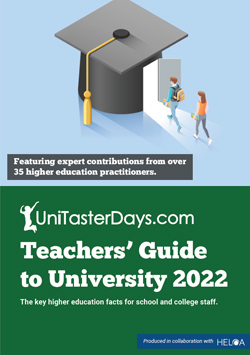 Teachers, careers colleagues and support staff: request your FREE UniTasterDays Teachers' Guide to University brochure.
This brochure has been produced by UniTasterDays.com in collaboration with HELOA - to support the university guidance that is provided in secondary schools and colleges.
Editorial has been provided by over 35 colleagues at universities and higher education institutions throughout the UK. On topics covering how to support students with their university decisions, university events, widening participation & fair access, UCAS applications (including writing school references) and more. It also includes the key student finance facts from Martin Lewis.
New to UniTasterDays? Register Now for our newsletter which includes access to this FREE guide.
Already registered? Login to your control panel with your email address to download now!