A new academic year update - how UniTasterDays will support you to provide exceptional university guidance to your students
I wanted to start the 2020-21 blog series with an update of how UniTasterDays can support the university guidance you provide to your students this year.
This will introduce how UniTasterDays.com can support you to build new university links for your school, develop new ad-hoc university event provision or perhaps build your own knowledge base relating to university guidance. I will introduce each area with a paragraph on each in this blog.
No aspect of any of this has any cost implications for you – our resources are free of charge, and we are only a call or email away if we can provide personal assistance too.
The UniTasterDays event search platform
At the time of writing – over 80 institutions have accounts to list events on UniTasterDays – meaning far more institutions are using UniTasterDays than those who aren't. The search area (link) is a great way for you to browse university event provision, and get some events booked in (the majority of which are online at present).
On the subject of online events – if you just want to only see online provision, we provide an online search too. As well as events for school groups, students can also find opportunities available for them directly on the online event search (link).
The UniTaster Tuesday webinar series
The UniTasterDays impartial university guidance webinars have seen over 4,000 registrations to date - and have featured approaching 100 university practitioners. They're continuing for the rest of the year and provide a great opportunity for students to find out more about key university guidance topics and studying a range of different university subjects.
Post-16 students can attend these directly, but if you're looking for something for school groups, you can search event recordings as well – and play these in the classroom! Upcoming events and all the recordings can be found on the UniTaster Tuesday page (link).
A new request event support section
We have re-developed the request an event (link) section of the UniTasterDays site – making it more Gatsby-Benchmark ready for you to to engage with universities. You can use this free service for any event you have in mind for your school groups, including online events.
Your *new* Teachers' Guide to University brochure
The UniTasterDays Teachers' Guide to University (link) brochure is produced each year - and the new edition will be released later this month. Editorial has been provided by over 35 colleagues at universities throughout the UK, on topics including building university links, the Gatsby benchmarks, degree apprenticeships, university CPD opportunities and more. Experts and celebrity names outside higher education have also supplied fantastic content in the Guide, including Martin Lewis's exclusive content on university fees and finance and graduate employability content from one of the UK's most successful business leaders – you'll find out who when it is released!
Join a mailing list of university events
Thousands of school colleagues have registered for our events by email (link) service, where the most relevant events on the site are emailed to you every Wednesday - as well periodic sponsored emails from UniTasterDays members and a quarterly #UTDIAG advice blog - to support your own university expertise.
Browse weekly university #UTDIAG blogs
The blog you are reading now is one of our weekly blogs (link) where every week someone working in the sector will provide fantastic content on a key aspect of university information, advice and guidance for schools. This includes anything from the Gatsby benchmarks and how universities can help – right through to the benefits of online events!
We're not just here to support staff - we offer a range of services for students too - as summarised in the video below.
Finally - in-person support too!
Do feel free to email me directly if I can help you build your university links. The email is listed on the Contact Us (link) section of the website. I would be happy to help!
---
Want More Updates & Advice?
---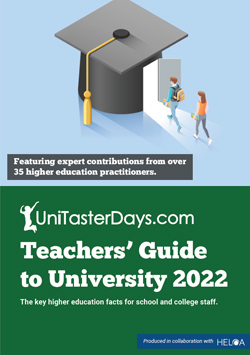 Teachers, careers colleagues and support staff: request your FREE UniTasterDays Teachers' Guide to University brochure.
This brochure has been produced by UniTasterDays.com in collaboration with HELOA - to support the university guidance that is provided in secondary schools and colleges.
Editorial has been provided by over 35 colleagues at universities and higher education institutions throughout the UK. On topics covering how to support students with their university decisions, university events, widening participation & fair access, UCAS applications (including writing school references) and more. It also includes the key student finance facts from Martin Lewis.
New to UniTasterDays? Register Now for our newsletter which includes access to this FREE guide.
Already registered? Login to your control panel with your email address to download now!