Changes in the Higher Education landscape in England explained
Guest blog by Carolyn Deeming, Market Intelligence Manager, Plymouth University
Over the last few years, it probably feels like both the pre-Higher Education environment and the Higher Education sector have been in a state of constant flux. It's a situation that's unlikely to change.
From qualification and tariff reform, to removal of the student number cap for universities - and the ever-increasing range of options available to 18 year olds - you can be forgiven for wondering how best to advise your students, and which university, or indeed whether university itself, is the best option for them.
Here are some recent developments to bear in mind:
Removal of the Student Number Controls
Previously, universities were only allowed to recruit a certain number of students. This was relaxed by the government in response to a perceived deficit in university places, with the student number controls first being removed for AAB students, then ABB students. Now there are no centrally imposed caps on numbers, though universities may be constrained by space or staffing.
Fall in the 18-year old population
The Office of National Statistics is reporting a decline in the principal population projections for 18 year olds until 2020 – these are one of the main consumers of higher education. This means that there may be a plateau, or even decline, in the number of students applying for a place at university.
Clearing has changed dramatically. In 2014, more students obtained a place through Clearing than through the insurance choice scheme. With Russell Group universities advertising places in Clearing, and with the ability to 'trade-up' if exceeding a conditional firm offer, your students may have a lot to think about when they get their results.
These are all indicators of a very competitive marketplace where Higher Education providers will be competing for your students. This could be through making unconditional offers to students or offering incentives in the forms of scholarships, and means that your students may have a wider range of opportunities open to them.
Within this new environment, your students may want to consider some more ambitious choices.
So how can students narrow down the options?
League table position may be an important factor for some students, but practicalities around costs, modules offered etc. shouldn't be ignored, and this is where the Competition and Markets Authority (CMA) has helped.
The CMA provided guidance in 2015 to ensure universities comply with consumer law. This means your students have unprecedented rights to be fully informed about all costs, course and module information, university regulations etc. - treated like the consumers they are when they are making one of the biggest purchases of their lives.
This information should be available on university websites, and can be a great way of shortlisting courses.
Facts and figures are great for narrowing down choices, but once a student has come up with a shortlist of potential universities and courses, the best way to make that final decision is to go and see the campus. It's vital they meet the staff and students, and get a feel for the place where they'll be studying for the next three years.
Ultimately it has to be the right choice for them: a place where they can thrive and succeed.
This is just a note from Jon at UniTasterDays, this blog was published in May 2016 - there has been more change since, most notably the National Collaborative Outreach Programme ("NCOP"). We will be publishing a blog on this shortly.
---
Want More Updates & Advice?
---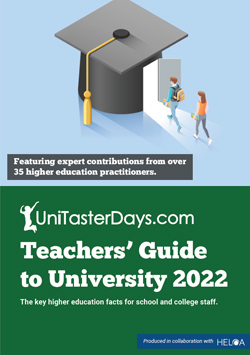 Teachers, careers colleagues and support staff: request your FREE UniTasterDays Teachers' Guide to University brochure.
This brochure has been produced by UniTasterDays.com in collaboration with HELOA - to support the university guidance that is provided in secondary schools and colleges.
Editorial has been provided by over 35 colleagues at universities and higher education institutions throughout the UK. On topics covering how to support students with their university decisions, university events, widening participation & fair access, UCAS applications (including writing school references) and more. It also includes the key student finance facts from Martin Lewis.
New to UniTasterDays? Register Now for our newsletter which includes access to this FREE guide.
Already registered? Login to your control panel with your email address to download now!