Virtual University Events : Summer 2020 and Beyond!
As lockdown restrictions begin to slowly ease we know that you and your students will be looking at to how to engage with the Higher Education world during Summer 2020 and beyond. Although traditional 'face to face' activities have yet to return, there are a wealth of opportunities out there to find out more about universities, courses and support with the university admissions process. Here I will outline them.
What are university virtual exhibitions?
UCAS and UK University Search are amongst the providers looking to stage Virtual Exhibitions during Autumn 2020. It may well be that exhibitions are targeted at specific subject areas or indeed offer more general HE advice. How do these events look and feel? My experience is that students can 'browse' stands, talk to advisors, talk to current students, request prospectuses and even view video content. In many respects these replicate the experience of a traditional event….however the one thing you won't be able to do is collect bags of goodies!
What are university virtual open days?
A significant amount of universities have been able to transfer their Open Days to virtual events during this Summer. There are opportunities to view presentations relating to subjects, support services, accommodation and the admissions process, as well as the chance to speak to academics, support staff and current students through online platforms. Students may even have the chance to explore university campuses virtually through virtual tours. One of the advantages of virtual events is that students and their families can experience these from the comfort of their own home – no need to travel around the country whilst they are doing your initial research which will save them time and money. Hopefully in the Autumn there will be the opportunity for your students to visit the universities that you are most interested in.
What are university webinars?
Throughout the pandemic at Newman University we have been providing live webinar sessions on a range of topics to support students, their families and advisors. Whether these be sessions relating to the university application process, CPD for advisors, or webinars aimed at parents we have been there to support. Indeed, we have also been able to introduce sessions from our academics which have also been very popular. The advantage of live webinar sessions is that our guests have been able to ask questions throughout the sessions in the same way they could had we been in the same room. In fact, our observation is that we have seen more questions being posed by our guests than we would have traditionally!
What are university online platforms (including live Chats and UniBuddy)?
Your students have more opportunity than ever before to interact with advisors and current students using virtual platforms. Whether that be through LiveChats on university websites with our team of advisors, or indeed to current students via UniBuddy we are here to answer any questions that they may have. This service is not just limited to your students – their parents and you as advisors are more than welcome to speak to us to get clarification on issues that may be of concern.

Whatever happens and whatever the Autumn may bring, we are here to support you and your students. Feel free to reach out to us with your requests for support, and we look forward to working with you throughout this Summer and beyond.
Online university events as a video
Would you prefer to watch a video rather than read the blog? Check out David's UniTaster Tuesday session below from 1 min 17 onwards..
---
Want More Updates & Advice?
---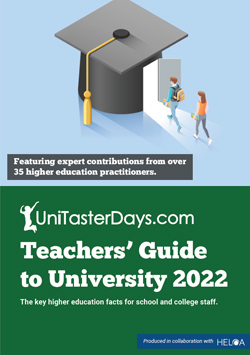 Teachers, careers colleagues and support staff: request your FREE UniTasterDays Teachers' Guide to University brochure.
This brochure has been produced by UniTasterDays.com in collaboration with HELOA - to support the university guidance that is provided in secondary schools and colleges.
Editorial has been provided by over 35 colleagues at universities and higher education institutions throughout the UK. On topics covering how to support students with their university decisions, university events, widening participation & fair access, UCAS applications (including writing school references) and more. It also includes the key student finance facts from Martin Lewis.
New to UniTasterDays? Register Now for our newsletter which includes access to this FREE guide.
Already registered? Login to your control panel with your email address to download now!