What will your students learn when they participate in online university events?
As we've all just got to grips with our google classroom polls, zooms and team chats, a new wave of events are on the horizon. Online university open days or virtual events are not new but have been slow to catch on as the experience is not the same as talking to a real person or visiting a campus. It is however becoming the new norm and one-way university can support students to explore their options.

Just like schools and colleges, universities and higher education providers come in all shapes and sizes, some have activities available now, others with smaller digital teams will take a little longer. The quality and interactivity of these events will vary, as will student's willingness to engage and be open to this platform to seek information.

The events feel quite different to a standard visit. Often, they will contain department and/or subject presentations, live question and answer session with academics, support services and current students. Some content is flexible, once students have registered and they can access anytime, others may be live and disappear after the event.
What students might learn from an online university event
These free events allow students to dip in and out of subjects they are exploring without the cost of travel. For some it may broaden their horizons as they take part in a range of events from home which they may have dismissed in other circumstances. In addition, some may find that by having other prospective students ask questions in a virtual public space, they learn more than they might have at a general open day.

However, as predicted outcomes for some may be unclear, schools and colleges will need to assist students to navigate choosing the most relevant virtual events for them. Those working with widening participation applicants will have concerns about how accessible digital events can be for those with limited access to these resources for example.
Virtual and physical university events - what is the difference?
For students to gain a meaningful understanding, it will be important not just to promote the digital events but to reinforce with real engagement in the autumn term. When it is safe to do so there will be a surge of open days and on campus events to back up the digital experience, running right up to the application deadline (not yet altered). This could help support parent's engagement, who are a critical factor in supporting student's decision making, but may have missed out on the virtual experience.

As higher education is getting to grips with changes, most universities are being mindful that the digital world only goes so far in the student journey. Developing a virtual offering which will become more sophisticated in the coming months, schemes such as Unibuddy and live chat will be important for staff and students to become familiar with and enhance higher education understanding in a digital environment.
Ruth Boyce is a Schools and Colleges Senior Development Officer at the University of Winchester. She currently supports students in their decision making about higher education, degree apprenticeships and progression options and has experience as a careers adviser and manager across further education and schools' careers provision.
---
Want More Updates & Advice?
---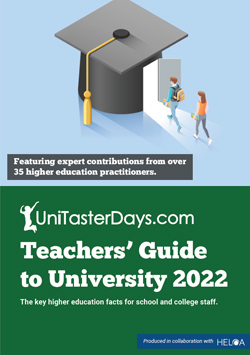 Teachers, careers colleagues and support staff: request your FREE UniTasterDays Teachers' Guide to University brochure.
This brochure has been produced by UniTasterDays.com in collaboration with HELOA - to support the university guidance that is provided in secondary schools and colleges.
Editorial has been provided by over 35 colleagues at universities and higher education institutions throughout the UK. On topics covering how to support students with their university decisions, university events, widening participation & fair access, UCAS applications (including writing school references) and more. It also includes the key student finance facts from Martin Lewis.
New to UniTasterDays? Register Now for our newsletter which includes access to this FREE guide.
Already registered? Login to your control panel with your email address to download now!