We're having a christmas blog break - best wishes and see you in January!
Wishing all our users the very best wishes for the Christmas break and year ahead - thanks for all your support during 2019.
Blogs will be back in the first week of January!
---
Want More Updates & Advice?
---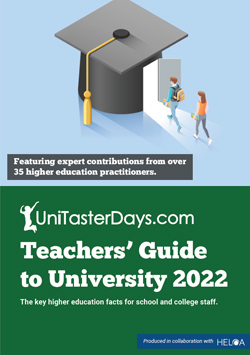 Teachers, careers colleagues and support staff: request your FREE UniTasterDays Teachers' Guide to University brochure.
This brochure has been produced by UniTasterDays.com in collaboration with HELOA - to support the university guidance that is provided in secondary schools and colleges.
Editorial has been provided by over 35 colleagues at universities and higher education institutions throughout the UK. On topics covering how to support students with their university decisions, university events, widening participation & fair access, UCAS applications (including writing school references) and more. It also includes the key student finance facts from Martin Lewis.
New to UniTasterDays? Register Now for our newsletter which includes access to this FREE guide.
Already registered? Login to your control panel with your email address to download now!