UniTasterDays Teachers' Guide 2019-2020. Out now!
This week's #UTDIAG blog will introduce the new edition of the UniTasterDays Teachers' Guide to University brochure - which has now been released!
What is the UniTasterDays Teachers' Guide?
The Teachers' Guide is produced in print and electronic form to support schools and colleges with all aspects of the higher education information, advice and guidance which is provided to students. It is completely free, and circulated by UniTasterDays, universities, networks of universities and organisations including HELOA.
Absolutely loads! It is our best and biggest edition yet. Over 35 sector colleagues have supplied editorial on the key aspects of university and school liaison, as well as content from MoneySaving Expert.com's Martin Lewis, Sky Chief Executive Jeremy Darroch and celebrity entrepreneur and retail magnate Theo Paphitis.
You can find out more about pretty much every area of university liaison, including:
Additional support at university
Applications with vocational subjects
Collaborative higher education programmes
College higher education
Contextual admissions
Course and career choices
Degree apprenticeships
Effective university engagement
Graduate employability
Higher education information for parents and carers
Higher education jargon
International study opportunities
Option choices
Organising a higher education fair
Personal statements
Sharing the results of the UniTastertDays national review
Student fees and finance
Support with Oxbridge applications
The Gatsby benchmarks
The transition to university
University accommodation
University courses
University CPD opportunities
University creative interviews and auditions
University decisions and offers
University event targeting
University events
University league tables
University open events
University work opportunities
Instructions are provided by clicking the link below
---
Want More Updates & Advice?
---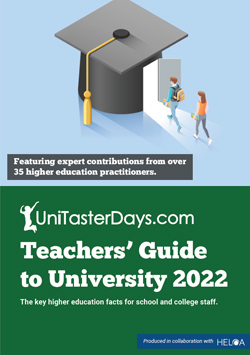 Teachers, careers colleagues and support staff: request your FREE UniTasterDays Teachers' Guide to University brochure.
This brochure has been produced by UniTasterDays.com in collaboration with HELOA - to support the university guidance that is provided in secondary schools and colleges.
Editorial has been provided by over 35 colleagues at universities and higher education institutions throughout the UK. On topics covering how to support students with their university decisions, university events, widening participation & fair access, UCAS applications (including writing school references) and more. It also includes the key student finance facts from Martin Lewis.
New to UniTasterDays? Register Now for our newsletter which includes access to this FREE guide.
Already registered? Login to your control panel with your email address to download now!