University fees and finance - The six things careers colleagues and teachers need to know
The month of May ended with more in the news about university fees and finance. So, I wanted this blog to focus on that very subject, which is widely seen as the biggest barrier to university for students.
Also if you have heard recent news about fees changing, and more specifically the Augar review, my advice for now is to ignore it. Nothing has changed yet – there has been a review, there have been recommendations, but nothing has changed – and nothing will just yet.
So - to cut to the chase. What are the six things I think teachers and careers colleagues need to know about student finance:
1: Students are very likely to be on a different system to you
Many teachers still repaying their own student loans often say to me after my workshops 'I am paying more than that'. That in many cases will be true. The system changed in 2012. If you started university before 2012, your repayments system will be different to that of your students. Please don't tell students about your repayment system as you will be paying back more each month than your students will in the future. For example, if earnings are £25,000 – a student won't pay anything at all – but you will be paying back around £45 a month on the pre 2012 system for the same amount. Your loan will be less, but your repayments will be more!
2: University on the face of it is expensive – but students get a loan to pay for it
Students get a loan for their tuition fees and a loan for (some/most/all) of their living costs. The brackets are dependent on your view and their budget. I would say most. They don't need money on day one. If students say they can't afford it, try and explore their reasons for saying that. Many have no idea they can get a loan.
3: Student loan repayments depend on earnings
As stated in point 1. Students don't pay their student loans back right away. They pay once they earn over a certain amount. At the moment, that is £25,725 a year. If students say they aren't going to university because it is not worth the money – remind them that they only pay anything back when their salary hits a very good level. And do remember as well that the graduate premium (how much a graduate earns more than someone who doesn't go to university) is around £10,000 every year.
4: Loans are taken away if not repaid after 30 years (that includes the interest)
Most students under the current system won't pay all their loan back – only the very highest earners will. It has been forecasted around 83% of students won't clear their loans. So … what happens then? Quite simply – nothing. If students don't clear their student loan within 30 years, it is wiped.
5: The total loan does not impact on repayments
Repayments are based on earnings – not the loan balance. If students scare themselves by calculating they may potentially finish university with a £50,000 - £60,000 student loan, do remember that figure makes absolutely no difference to their monthly repayments. The only thing that figure will impact is if they will clear the balance (plus interest remember) within 30 years.
6: Things have and can change
The system changed in 2012, it can change again. Do keep an eye on it and encourage students to as well. The Augar review (read our blog on it) may change things, but that will probably impact current Year 11 students at the earliest. If it changes things at all! That is a blog for another day.
How can I book a finance workshop?
Student finance guidance is incredibly important. Universities will run sessions on this, and you can find one close to you by searching events on UniTasterDays (see the student finance search filter).
I can also come in and run a really interactive session for you, do please find out more about our we make student finance fun workshops as well.
---
Want More Updates & Advice?
---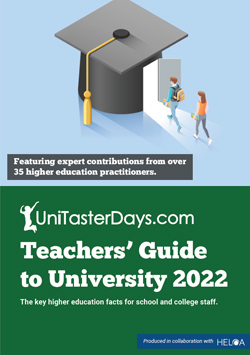 Teachers, careers colleagues and support staff: request your FREE UniTasterDays Teachers' Guide to University brochure.
This brochure has been produced by UniTasterDays.com in collaboration with HELOA - to support the university guidance that is provided in secondary schools and colleges.
Editorial has been provided by over 35 colleagues at universities and higher education institutions throughout the UK. On topics covering how to support students with their university decisions, university events, widening participation & fair access, UCAS applications (including writing school references) and more. It also includes the key student finance facts from Martin Lewis.
New to UniTasterDays? Register Now for our newsletter which includes access to this FREE guide.
Already registered? Login to your control panel with your email address to download now!