Introducing Degree Apprenticeships (including some myth busting)
When I started my current role, where I work closely with schools and colleges to raise awareness of degree apprenticeships, I saw it as an exciting opportunity to promote a funded, high-quality alternative for students to gain a degree. The evolution of degree apprenticeships has proved that this alternative to traditional higher education pathways offers people much more than a funded degree. It is an opportunity to create a pool of highly skilled graduates, address skills gaps in our economy, and most importantly widen access to higher education.
The collective challenge now is how we can advise young people, so that they fully understand these opportunities, where to find them and how to successfully apply and progress.
What are Degree Apprenticeships?
Degree apprenticeships offer post-18 students the chance to start a career with paid full-time employment. As part of a degree apprenticeship, the apprentice also studies part-time for higher qualifications, such as a BA (Hons), BSc (Hons) and BEng (Hons) degree. These qualifications are viewed exactly the same within the graduate job market and upon graduating, apprentices are not tied to their existing employer.
The developmental role involves work-based learning alongside studying part-time at a university (the training provider), without having to pay tuition fees. Like traditional apprenticeships they enable individuals to develop key skills, knowledge and behaviours in a recognised occupation, while undertaking a substantial programme of on and off-the job training. Simply, they offer proactive and enthusiastic individuals an opportunity to gain significant work experience by taking on real responsibility in a professional environment. This often propels apprentices on to a pathway of fast career progression. In terms of starting salaries, while there is a minimum wage for apprentices, most employers pay higher than this at around £12,000 - £15,000 per year.
Entry requirements and how to apply for Degree Apprenticeships?
There is no age limit for applying and typically students will have completed a level 3 qualification prior to starting a degree apprenticeship. Commonly, entry requirements for degree apprenticeships mirror full-time undergraduate degrees in relevant subject areas.
A key point to remember is that employers can sometimes ask for different entry requirements to training providers. Furthermore, students should also have GCSE English and Maths at a minimum of level 4 (or grade C). Typically, students do not apply for degree apprenticeships through UCAS and instead will apply directly with the employer. Various training providers will advertise vacancies on their website and in some instances send vacancy alerts to students who register their interest in their programmes.
What are the student perceptions of Degree Apprenticeships?
When attending careers fairs, I am often asked questions like 'can I study on a degree apprenticeship in English or Philosophy'. As you may expect, students are drawn to the idea of applying for a degree apprenticeship because of the generous financial benefits.
I feel students often get confused or have overlooked that a recognised occupation and work-based learning are essential components of apprenticeships at any level. Possibly, students are now more familiar with the multiple options offered through traditional higher education pathways, whereas degree apprenticeships are very specific to certain industry areas.
To reiterate an earlier point, degree apprenticeships provide an alternative to traditional higher education. Therefore, we will always encourage students who aspire to develop their knowledge and skills in an academic subject they have a strong enthusiasm for, to apply for a full-time undergraduate degree. I believe this is an area that students require more guidance with, to allow them to make a more informed choice on post-18 higher education pathways.
What are the school and college perceptions of Degree Apprenticeships?
The demand for workshops and activities for students related to degree (and higher) apprenticeships has increased significantly during the current academic year. This could be due in part to schools and colleges being told to focus more on employability and careers by Ofsted and in the Gatsby Benchmarks, which makes degree apprenticeships an attractive option. Alternatively, schools and colleges consider the appeal of no tuition fees and a paid salary as too good an opportunity for their students to miss. Whatever the reasoning, this is a positive sign that schools and colleges have a greater awareness of the opportunities that degree apprenticeships offer.
One of the many positive outcomes from the emergence of degree apprenticeships is that both 'practical' and 'academic' learners now have a high-quality alternative to fulltime higher education. Therefore, degree apprenticeships should not be viewed as a 'back up' option to a traditional higher education course, but rather an alternative. I also regularly meet students who are interested in degree apprenticeships with high-predicted grades, which is proof that the opportunity 'to earn while you learn' is desirable for many students.
Employers recruit committed, proactive and resilient individuals who can demonstrate key personal qualities whilst having the desire to develop within their organisation. Consequently, I think it is important that schools and colleges celebrate the achievement of students who progress on to a degree apprenticeship, similarly to those who gain a place on a competitive or selective fulltime undergraduate degree.
---
Want More Updates & Advice?
---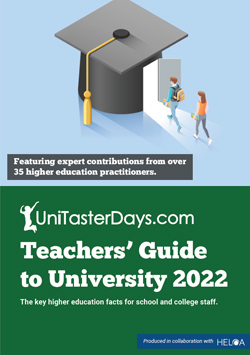 Teachers, careers colleagues and support staff: request your FREE UniTasterDays Teachers' Guide to University brochure.
This brochure has been produced by UniTasterDays.com in collaboration with HELOA - to support the university guidance that is provided in secondary schools and colleges.
Editorial has been provided by over 35 colleagues at universities and higher education institutions throughout the UK. On topics covering how to support students with their university decisions, university events, widening participation & fair access, UCAS applications (including writing school references) and more. It also includes the key student finance facts from Martin Lewis.
New to UniTasterDays? Register Now for our newsletter which includes access to this FREE guide.
Already registered? Login to your control panel with your email address to download now!