How to prepare your students when thinking about university
Francesca Carey from Brunel University London provides her top tips on how you can help your students:
1. Approach your local universities about their outreach events, and go to UniTasterDays.com to see the sort of activities HE institutions are promoting.
2. Encourage your students to make the best use of university Open Days and Taster Days, speaking with university staff first hand and seeing if they feel the institution is the right 'fit' for them.
3. Why not invite universities to come to you to showcase their portfolio of courses? Many universities will be happy to attend a HE Fair at your institution or provide a presentation to students and parents.
4. Incorporate student-life activities into your programme of events, so you can broaden your students' knowledge and interest in higher education.
5. Encourage your students to make good use of university social media, videos and podcasts to keep up to date with the latest news and developments from their chosen institutions.
6. Suggest that they attend UCAS exhibitions wherever possible.
7. In fact, encourage early engagement with the UCAS application process as it's never too early for them to start researching courses/universities and to begin formulating an action plan - it builds their self-confidence in decision-making
8. Make your students aware of the breadth of advice and guidance available to them on the UCAS website: there are lots of great tips to help them along the way.
9. Get the support of your students' parents during the application process. Parent evenings at your school/college are a great way of raising their own awareness of higher education, ensuring they have all the relevant information so they can be involved in their child's decision-making.
---
Want More Updates & Advice?
---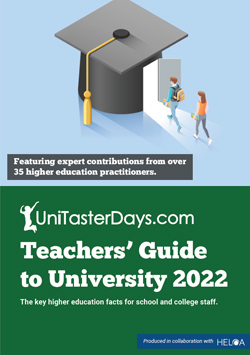 Teachers, careers colleagues and support staff: request your FREE UniTasterDays Teachers' Guide to University brochure.
This brochure has been produced by UniTasterDays.com in collaboration with HELOA - to support the university guidance that is provided in secondary schools and colleges.
Editorial has been provided by over 35 colleagues at universities and higher education institutions throughout the UK. On topics covering how to support students with their university decisions, university events, widening participation & fair access, UCAS applications (including writing school references) and more. It also includes the key student finance facts from Martin Lewis.
New to UniTasterDays? Register Now for our newsletter which includes access to this FREE guide.
Already registered? Login to your control panel with your email address to download now!