How can you support students when they research for university opportunities?
With so many courses available, students are spoilt for choice on both course and institution. Sometimes having so much choice can be daunting and students can feel like they don't know where to start.
Research is vital for students when looking for the right course and university but it is also key for success when they start higher education. This blog will help by providing some top tips.
Tip 1 - University course research
Students should always begin with an area of study they enjoy and skills they want to develop whilst at university. A degree is generally a three year commitment (at least) and students should therefore choose a course that they find interesting and engaging.
Students should also remember that generally courses (even with the same title) will be different between institutions. A History course at one university may be markedly different to a History course at another. Different universities may offer different modules on their course for example. This will be explained on the university website.
What will be studied is just one part of a student's learning experience – they should also consider how the course will be delivered. Class sizes will differ; large lectures will be a very different experience to small seminars.
Students should reflect on their own learning style and whether a university's delivery of the course such as interactive teaching or chalk and talk large lectures will suit their needs.
Tip 2 - They should consider extra-curricular opportunities
Going to university is an experience in itself and students should consider what they will be doing outside of their studies as well. This involves where they live and what they will do in their spare time.
They should consider the type of campus the university has – do they want to be based on one campus or spread out, in a city centre or the rural countryside? They should also consider what accommodation is available if they are looking to live away from home.
Tips 3 - Don't forget clubs, societies and support
Universities will also offer a range of clubs and societies so lots of interests can be catered for. But students should consider what sports clubs there are at the university and what facilities are on and around campus. A wide and varied range of societies will exist at universities and students are often able to set up their own society if there isn't one to meet their interests.
As well as the social aspects, students should consider what additional support is offered at university during their studies and beyond. The careers service can often point students in the direction of work and volunteering opportunities, as well as support as students graduate, and even after that.
---
Want More Updates & Advice?
---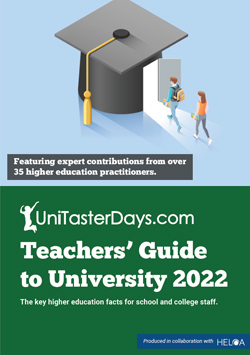 Teachers, careers colleagues and support staff: request your FREE UniTasterDays Teachers' Guide to University brochure.
This brochure has been produced by UniTasterDays.com in collaboration with HELOA - to support the university guidance that is provided in secondary schools and colleges.
Editorial has been provided by over 35 colleagues at universities and higher education institutions throughout the UK. On topics covering how to support students with their university decisions, university events, widening participation & fair access, UCAS applications (including writing school references) and more. It also includes the key student finance facts from Martin Lewis.
New to UniTasterDays? Register Now for our newsletter which includes access to this FREE guide.
Already registered? Login to your control panel with your email address to download now!