How UniTasterDays helps schools to find university events and build university links
University information, advice, and guidance are very much on the agenda in secondary schools. The Gatsby benchmarks, continued support for the NCOP initiative, the appointment of Careers Leaders in every school and the overarching new Careers strategy jump out right away.
How can UniTasterDays help?
I launched UniTasterDays in 2012 whilst working at a university because I could see first-hand the need for something to support the connection between schools and universities following the closure of the national Aimhigher network and university fees near trebling to £9,000.
Fast forward to 2019 and UniTasterDays now list over 1,000 events, with over 65 higher education member institutions and we're used by schools UK-wide. We are also fortunate to have developed some great relationships with key professional bodies and sector leaders...we work in collaboration with HELOA, we are a CDI and Careers England member organisation and our event listings also feature on the UCAS webpages.
Our free resources for schools are also award-winning, and only last year we were shortlisted and a finalist at the National Education Resource Awards for the best secondary resources. That was our most prestigious accolade to date, and this year we're hoping to go one better.
But you won't be worried about that, you''ll be interested in how UniTasterDays can help you. So this week's blog will introduce how UniTasterDays.com can support you to build new university links for your school, develop new ad-hoc university event provision or perhaps build your own knowledge base relating to university IAG. I will introduce each area here.
The UniTasterDays event search
Teachers usually start on the event search platform, to browse events already listed by universities. If you type in your school, the listings will be specific to your institution. Every type of university event is listed here, from a UCAS workshop for your year 12's, right through to a Business Masterclass for your year 9's.
Request events through one simple form
If you can't find an event on the main search pages to meet your needs, you can request an event delivered by a university through adding the details to one simple request an event form. This can be used for any type of event you have in mind, including careers fair invitations and subject specific activity.
Join a mailing list of university events
Thousands of school colleagues have registered for our events by email service, where the most relevant events on the site are emailed to you every Wednesday - as well periodic sponsored emails from UniTasterDays members.
Request your Teachers' Guide to University brochure
Every year, we produce a Teacher' Guide to University brochure. This includes the key aspects of university which teachers need to know. Over 20 sector colleagues provided content, as well as key figures including the MoneySavingExpert himself Martin Lewis – who kindly provided exclusive content on university fees and finance!
Browse weekly university #UTDIAG blogs
The blog you are reading now is one of our weekly blogs where every week someone working in the sector will provide fantastic content on a key aspect of university information, advice and guidance for schools. This includes anything from the Gatsby benchmarks and how universities can help – right through to the benefits of taking school groups to university open days!
Book independent and interactive UniTasterDays workshops
As well as universities running fantastic workshops, UniTasterDays can offer them too – and we regularly deliver independent and interactive workshops to schools. These can be booked by schools directly, and we also offer these during events facilitated by universities and networks of universities as well. They're great fun – and they include thorough evaluation, so you have great impact data to demonstrate university IAG in your school after we finish the session as well.
Finally – if you need a hand – do please get in touch
I am very active on Linkedin but do feel free to email me directly if I can help you build your university links. The email is listed on the Contact Us section of the website. I would be happy to help!
---
Want More Updates & Advice?
---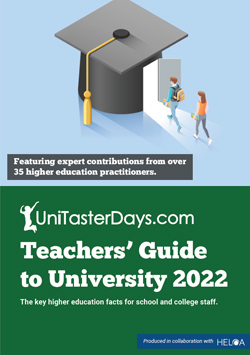 Teachers, careers colleagues and support staff: request your FREE UniTasterDays Teachers' Guide to University brochure.
This brochure has been produced by UniTasterDays.com in collaboration with HELOA - to support the university guidance that is provided in secondary schools and colleges.
Editorial has been provided by over 35 colleagues at universities and higher education institutions throughout the UK. On topics covering how to support students with their university decisions, university events, widening participation & fair access, UCAS applications (including writing school references) and more. It also includes the key student finance facts from Martin Lewis.
New to UniTasterDays? Register Now for our newsletter which includes access to this FREE guide.
Already registered? Login to your control panel with your email address to download now!